The rise of clouds, big data interactions, and instant data has an unprecedented impact on the manufacture of semiconductors. They seriously challenge the Moore scaling system and invite semiconductor device producers to consider new scaling paths. Since decades, DAIKIN serves the semiconductor industry's objective: maintain the technology scale up in overall performance.
The evolution of "always-on" devices, able to generate the data instantly, ratify ultra-low-power features. Big data needs overflowing computing and memory resources to perform the service demanded by clients. Because they ratify resources such as power and interconnect bandwidths, these new usages are driving the industry to challenge the Moore law to More Moore. The last Performance Power Area Cost (PPAC) improvement targets defined by the International Roadmap Device Service (IRDS) are challenging and encourage significant technological innovations, concerning material and manufacturing process changes. According to IRDS, yield enhancement will be a core focus of the next 15 years to limit yield-related defects and contamination further.


DAIKIN is recognized throughout the world to support the semiconductor industry improving their entire process. DAIKIN full range of fluoro-based solutions are specified in foremost semiconductors device fabricators with years of proven results within the supply chain.

For etching solutions, chemical mechanical polishing or related fluid handling and conveying systems, the outstanding chemical resistance, and purity that DAIKIN resins offer to prevent contamination of the fluids processed while limiting the equipment downtime. Solutions are available for Plants equipment, manufacturing components, tanks and containers, clean room, process chemicals: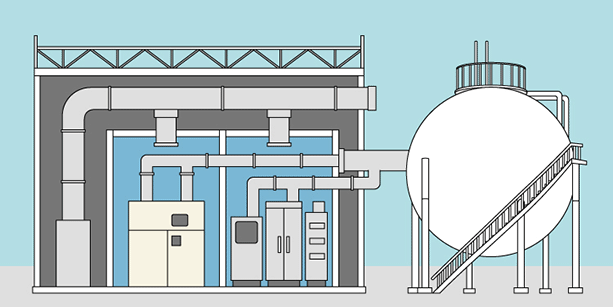 DAIKIN develops various fluorine chemical products to support the manufacturing process of semiconductors and liquid crystals. These solutions are based on high-quality fluorochemicals, such as fluoropolymers, fluoroelastomers or process material. They are highly pure and have outstanding chemical resistance, production environments where external contamination is a critical concern.
Pipes for plant equipment

Pipe and valves materials used in semicon plants require excellent resistance against chemicals. Fluoropolymer NEOFLON PFA is the best solution to maintain high purity in the production process.

Exhaust duct and Heat exchanger

DAIKIN fluoro coatings meets exhaust ducts and heat exchangers expectations with regards high heat, flame retardant and chemical resistance.

Chemical tanks and containers

ZEFFLE coatings resin is recommended as an external coating to protect tanks again outdoor aggression such as UV, heat, and soil.

Tubing / Fitting / Valve / Filter

Fluoropolymer NEOFLON PFA imparts exceptional chemical resistance and longer life to tubes, fittings, valves, and filters used semiconductor manufacturing equipment.

DUPRA O-rings used as a seal material in semiconductor manufacturing equipment,
enable the highest purity and excellent chemical resistance of the process, thanks to inherent material properties and safe packaging.

DAIKIN range of dry and wet etchants enable semiconductor producers to achieve high purity level and yield in the etching process.